A number of years ago, I attended a writers' conference in New York City. It was a great experience and I met several wonderful people. One of my favorite persons is a young mother by the name of Jakki Clarke. Perhaps one of the reasons we hit it off is because she is a big sports fan, especially hockey.
Anyway, Jakki has just published her first novel and it's superb. Here is her cover: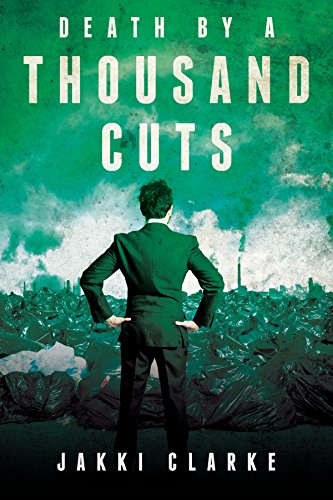 … and here is her Amazon link
Finally, here is my review I posted on Amazon:
Death by a Thousand Cuts is a smartly written novel set in modern-day Camden, NJ – one of the bleakest urban cities in all of America. This is a gritty story full of shady politicians, cutthroat developers and protagonists you want to root for.
When popular journalist Sydney Langston sets out to write a feel-good 'where-are-they-now' story about the successes of recent graduates of the city's new, ultra-modern high school, she is troubled by what she finds. Despite the advantages the $320M high school, many of the school's grads are failing at life, and failing miserably. As she digs deeper, she finds that sinister forces don't want her to discover the truth and will do anything to stop her.
Jakki Clarke has written a remarkable story. Her prose leaps off the page and every word seems perfect, even surprising, Elmore Leonard-esque. I look forward to more stories by her.